<! --gudus-- >
Making the "™" symbol is not difficult and can be used in many different applications, The process is simple and can be done in different ways:
The most common method for creating the "™" symbol is through the use of the
Unicode
input options for the keyboard. To access the Trademark symbol in Unicode, the user must go through these steps:
So how is it done
1. The user needs to have the location where the "™" symbol will be inserted
2.Place the type cursor to where the symbol must be inserted.
3.The user must then hold down the "Alt" key then press the following sequence of keys on the keyboard number pad 0, 1, 5, 3,.
4. Then let go of the "Alt" key. Once this has been completed, the "™" symbol should appear.
It
works on Windows based computer PCs using a standard American keyboard with a number pad. Notebook computers may require an additional step such as enabling the Number pad keys as an alternate function.
To do this, the user must hold down the function key on their notebook computer then press the corresponding Function (F1-F12) key to enable the number pad. Once the ™ symbol is in place, the user will need to disable the Number pad keys with the corresponding code, otherwise the default keys for the keyboard will be replaced with the numeric keypad keystrokes.
Using the Character Map For Symbols (Windows)
To open the Character Map, you need to do it in one of the following ways:
1.Open the start menu by clicking on the start button on the task bar.
2.Go to the programs button to open the list of programs installed on your Windows PC.
3. Scroll down the list until you see the "Accessories" folder then click on it to open it,
4. Then go down until you see the "System Tools" folder then click it to open the directory.
5.The Character Map is available as one of the system tools, click on it within the list to open the Character Map window.
Alternatively,
You can hold down the "Windows" key on your keyboard then press the "R" key once to open up the Run command. A dialog box labeled run will appear with a text field. In the text field, type in "charmap" without the quotation marks, then press enter or select the "OK" button to open up the Character Map.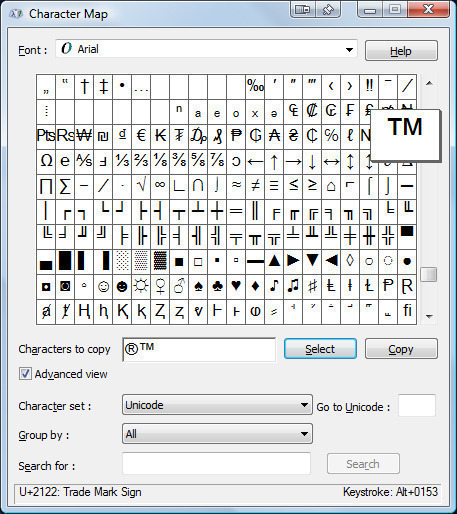 Once you have finished with your symbol selection, such as the "™' symbols, click on "Copy"
button and paste where you want to place it
.
In next post watch out for how to create registered trademark symbol and you can
subscribe this blog so you can receive updates.