<! --gudus-- >
An iPad is a tablet PC that Apple produced, which combines the features of other Apple products such as the Macbook, iPhone, and iPod Touch. iPads are extremely lightweight and portable, are based on touch screen technology, and include support for WiFi, Bluetooth, and 3G. In addition to the many programs and features that the iPad itself has, the iPad also allows access to the Apple App Store, which includes a wide variety of additional applications. However, if someone wishes to take advantage of applications that other sources provide, he/she may need to jailbreak the iPad.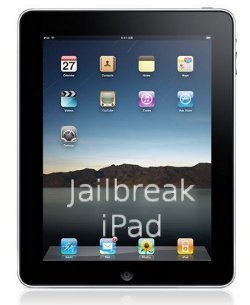 Requirements
Any iPad, iPhone, or iPod touch on firmware 3.1.2, 3.1.3, or above

An activated device: one not stuck on the Connect to iTunes or Emergency Call screen.

Any version of iTunes 9 earlier than 9.2

Syncing with iTunes before trying this is highly recommended
What Should I Do
2.Ensure that the iPad is running iOS 3.2 or
iOS
5.0.1
.
You can find that out by going to Settings > General > About. It should say what firmware your on under Version.
3.Synchronize the iPad with the computer in order to backup all content and settings.
4.Connect the iPad to the computer,
5.Install the software
6.Click "Jailbreak" in order to jailbreak the iPad.

The iPad will then restart and an application called Cydia, which will act as a portal to hundreds of unapproved, third party applications will be displayed.