<! --gudus-- >
Due to COVID-19 pandemic must of learners spend much time surfing the internet for studies material through YouTube.The good videos contents uploaded on YouTube help children with their studies whereas the inexpedient content threatens their innocence. The immense and intriguing content available on YouTube lures the child and soon they become addicted to it. There are all sorts of videos available on YouTube ranging from kindergarten rhymes to violent and depressing content.
No one would want to expose child to the inappropriate and harming videos uploaded on YouTube. Cyber bullying is another harmful effect caused by the abundance of internet. In earlier days parents have to protect their children from bad company and nowadays they need to protect them from bad content.
In this post, I will take you through how to put parental control to regulate content your child watch on on YouTube.
1. YouTube restriction mode.
==> Sign in to your YouTube account,
==> Select restriction mode to activate it.
Note: In Android devices after opening the 'Settings', you require to click on 'General', and then you will be able to see the restriction mode option.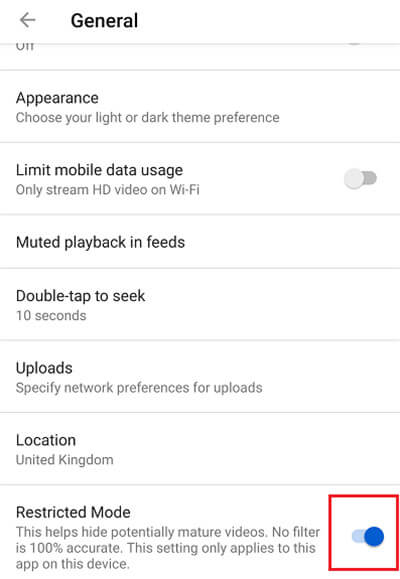 2.
FamiSafe is a reliable all-in-one parental control app aimed at safeguarding kids 24/7 online. It lightens parenting burden and fosters kids' healthy digital habits by many powerful features like location tracker, explicit content detection, screen time limit, web content filter and app blocker.
It will work as your eyes and ears while your child in streaming videos on YouTube. If the application sense anything harmful and unwanted it will immediately warn you and send an alert.
FamiSafe detects the inappropriate keywords mentioned in the description, comments, and titles of the videos and helps you to protect your child from such content. You don't have to be dependent on the application to select the harmful keywords, rather you could add the unwanted words yourself

- FamiSafe is a cross-platform parental control app working on mobile devices and tablets. Parents can control children's devices via any desktop or mobile web browser. Feature are

YouTube App Control

- Check children's YouTube watch history and app usage time
- Remotely block inappropriate videos and channels on YouTube app

Explicit Content Detection

- Track inappropriate content in kids' main social media apps with keywords
- Real-time alerts to signs of cyberbullying, adult content, suicide or depression, etc
- Flexible warning keywords adding

Suspicious Photos Detection

- Automatically detect kids' phone galleries and find porn pictures
- Send alerts instantly about detected photos

Screen Time

- Check daily screen time usage
- Block specific threatening apps or app categories
- Temporarily block devices or reward screen time

Smart Schedule

- Remotely lock down kids' devices at specific time and places like school, meal or sleep time, avoid study distraction or sleep deprivation

Activity Report

- Visibility to what apps are used and for how long at a glance
- Have a good grip on children's app installation

Family Locator & Location History

- Check children's real-time location
- View location timeline to confirm kids' daily schedules

Geofences

- Mark geo-fencing zones like "school zone" or "home zone"
- Get alerts when kids arrive or leave unsafe or safe zones

Web Content Filter & Web History Monitoring

- Block or allow specific websites
- Check browser history, even it is deleted or in incognito mode
- Filter websites by categories


How to Protect Kids with FamiSafe:

1. Install the app on both your phone and your kid's phone.
2. Register and log into your FamiSafe account on your own device, choosing the role as "Parent"
3. Log into FamiSafe account on your kid's device. After a few settings, you will then make any parental control setting remotely.
Download links below
Android Link
Desktop Link