<! --gudus-- >
Have you been blindly using the default browser that came on your smartphone? There are some great alternatives out there, including Yahoo! Axis, a new browser for iPhone and iPad.Axis brings a much more visual way of searching, plus the option of picking up a browsing session on your phone or tablet that you started on your computer. Android devotees have long been ditching their nameless default browser for a better mobile web experience. so I gave a few of the other alternative web browsers for Android a try. I found that each really did offer surprisingly different experiences as I was browsing the Internet on my phone.
One of the more versatile mobile web browsers,
Dolphin
allows users to browse the Internet with their voice. A user just has to shake their phone and say what they want to search for. It also has a number of nifty add-ons, like Dolphin Translate, which allows you to read webpages in different languages.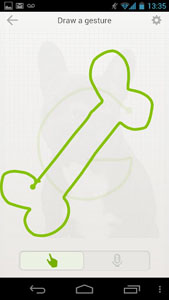 Built with social networking in mind, the
Skyfire Browser for Android
puts the Facebook Like button on every page of the Internet; lets you see your Twitter and Facebook feeds in one list; and allows you to watch video without burning through your data usage.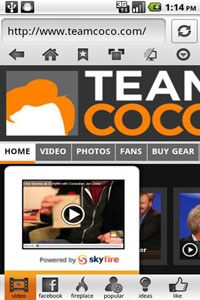 These guys take pride in their speedy browser and have acquired millions of users around the world because of it. Use the
Opera
Speed Dial feature to access all of your favorite sites in a single click. Their latest developments: 3D graphics, location-based services and a camera directly in the browser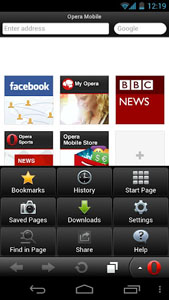 This is an especially good choice if you're already a Chrome user.
Chrome for Android
allows you to bring your already personalized Chrome experience wherever you may go and looks beautiful with its clean tabs. Simply sign-in to sync your bookmarks, and send pages from your desktop to your smartphone to read offline.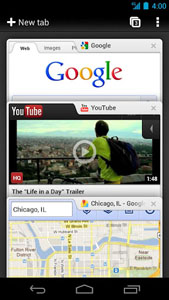 Similar to the Chrome browser, this mobile web browser allows existing Firefox users to sync up their desktop and smartphone experiences. What's cool about this one is that
Firefox
offers a number of add-ons to further personalize your mobile experience, and it learns what you do and what you like as you browse.