<! --gudus-- >
When you write a post, Blogger automatically generates a permalink (a URL that links to a blog post) for your post from its title. If you prefer to use a custom permalink, you can do so via the "Permalink" option in the Post Settings box.
Although you'll still have the option to generate the URLs for posts automatically, the customized option gives your URL greater stability. For example, because Blogger automatically creates the URL from information from your post title, your URL would change should you decide to edit the title. This would result in broken links, and fewer visitors to your blog.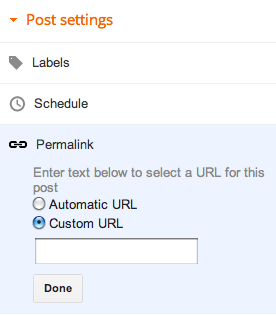 ==>Click
Permalink
, you'll see that the option for automatic posting is selected as default.
To create your own URL for this specific post
,
==>Select Custom
,
==. Type in your new URL. If you wrote the post in March of 2012, your new URL will look like this:
www.nameofblog.blogspot.com/2012/03/
customURL.html
If you choose
Automatic
Blogger will generate the URL from the title of your post. So let's say you created a post on March of 2012, and you titled it "Hiking in Vermont." The URL for that post would look like this:
www.nameofblog.blogspot.com/2012/03/hiking-in-vermont.html